Calm Charm Aromatherapy Necklace
Inhale. Exhale. Repeat. A wearable, stylish diffuser for aromatherapy on the go. Just pour a few drops of your favourite essential oil into the calm charm and wear around your neck for that zen-like feeling all day. Made with Hypoallergenic Stainless Steel. Available in Rose Gold & Silver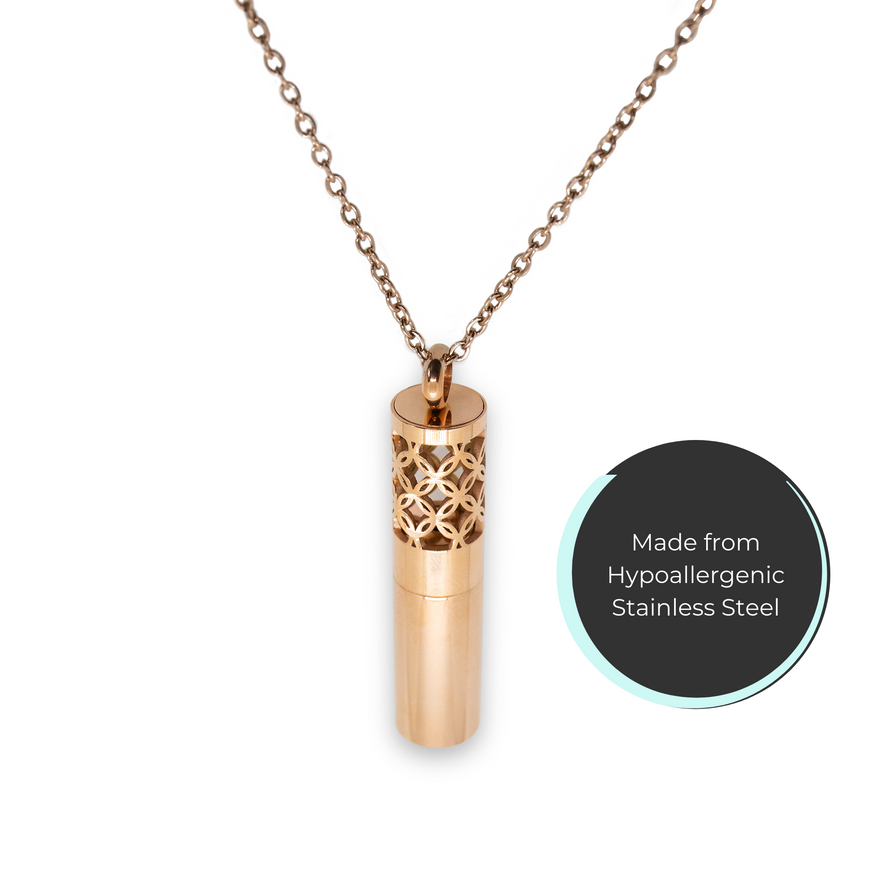 Inhale. Exhale. Repeat. A wearable, stylish diffuser for aromatherapy on the go. Just pour a few drops of your favourite essential oil into the calm charm and wear around your neck for that zen-like feeling all day. Made with Hypoallergenic Stainless Steel. Available in Rose Gold & Silver
Calm Charm Aromatherapy Necklace

Why it's great:
Aromatherapy on the go with this wearable, stylish diffuser necklace. 

Zen-like feeling all day as you wear this calm charm infused with your favourite essential oil.
Boost energy levels. Relieve Anxiety. Relax & Unwind
Innovative, light weight and sturdy design.
Made from hypoallergenic stainless steel.
Vial holds enough essential oil to last you a week of aromatherapy on the go.

Best used with the Zilch First Principles Clary Sage Essential Oil
Zero Bad Stuff Always: Safe to use. The Calm Charm Aromatherapy necklace is intended for external use only. Please store away from children. 
The use of essential oils can help uplift mood, relieve stress and anxiety and enhance focus. The Zilch Calm Charm is designed to help you harness the benefits of aromatherapy with essential oils with its unique and innovative design that is easy to use and easy to flaunt with your everyday style. 
Each Box Contains: 1 x Zilch Calm Charm, 1 x 30 cm chain, 4 x felt pads
How to use:  Unscrew the charm head. Keep aside. Remove the secure cap on the vial and pour a few drops of your favourite essential oil. Screw the secure cap back on. Use the felt pad for a stronger, longer lasting aroma by pouring 1-2 drops of essential oil and inserting in the charm head. Screw the charm head back on. 
Pro tip: Use a new felt pad when you want to change fragrances/essential oils. 
You're all set! 
Additional Information
MRP ₹950 (incl. of all taxes)
Generic Name:  Stainless Steel Jewellery
Net Quantity: 1 piece
Use Before: Not Applicable
Product Dimensions (in cm): 8 x 8 x 2 
Country of Origin:  China
Imported & Marketed by: Zilch Cosmetics Private Limited, 55, 2nd Floor, Lane 2, Westend Marg, Saidulajab, New Delhi 110030
Customer Care: For queries / feedback write to us at care@zilchcosmetics.com
Something different
Very beautiful and sleek looking necklace.
Worth it!
Absolutely beautiful and functional. It looks pretty stylish and high quality
Loading
Loading